Portland is a wonderful place to live. We all know that, right? Karen Brooks just wrote a book calling it The Mighty Gastropolis. Fred Armisen and Carrie Brownstein make fun of it on a regular basis. This city has a lot of awesome happening, but it's easy to forget that sometimes. All too often I find myself getting caught up in my own little life and not venturing out into the city. I can go for weeks, traveling from home to work and back again without looking up once. The best antidote for this  kind of lethargy? Host visitors! For New Years I got to play tourist with some friends who came to stay with me. There is nothing better to make you crawl out of your routine and look around at the wonderful place we live in than having to
So the best way to fall in love with your own city again? Play tourist.
Step 1: Food of course! This is Portland after all. I started with Broder for brunch. This is my go-to place for brunch, though they serve lunch and dinner as well. I like sitting at the bar because you get to see everything being made. Also, the nice people at Broder provide a warm place to wait in Savoy Tavern next door. Isn't that nice of them? There are quite a few of these no-reservation restaurants in Portland, and in my renewed exploration, I found Broder is not the only place that conveniently has a bar next door to store the multitudes waiting to eat. We brought Bananagrams and Spot It and drank coffee and the wait was over before we knew it. Then on to Lefse and goat cheese!
Step 2: Wander. In my opinion, this is best done on foot. The bus is acceptable as well. I'm a big fan of going slow. You get to see more this way, and if you're walking you're also working off some of the food you just gorged yourself on. We chose to explore the West side of the river on the first day, and of course we had to hit Powell's and 23rd Ave. On the second day we walked up Mt. Tabor.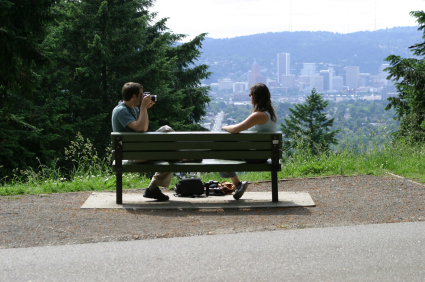 Have you seen that view? If you haven't you should, and if you have you should go again.
Step 3: More Food. I'll spare you all the gory details, but suffice it to say that I have never eaten more in my life than I did this past weekend. Here is a list of just some of the places we hit. Eat this much good food, and you're bound to fall in love.
Broder
Conquistador (Go for tapas at happy hour. You won't regret it.)
Little Big Burger (I don't think I'll ever get over the fact that they have a chevre cheese burger)